The PROJEKT LUFTSCHLOSS [project castle in the air] is the result of the examination of the fragmentation and incompletion of the space and the disappointed hopes for permanence and wholeness. The installation Alice-Salomon-Platz in Berlin Hellersdorf is 2300 m3 in size and is divided into four phases; showing different stages of transformation.
Using the imagery of a construction site, the object receives a dynamic form and becomes a transitional work whose presence already contains its own absence. Materials normally used to conceal the construction process become building materials. The installation oscillates between permanence and volatility, the grounded tectonics of a construction site and the placeless hovering of a cloud. Using common place construction scaffolding and protective netting the installation mimics a construction site and thereby blends into the urban landscape. It reveals its artistic intention only through its structural discrepancies. The staged construction site links back to the never completed plans of the large scale housing development Hellersdorf. Ever since the political system change and the bankruptcy of the development agency, incomplete building projects have shaped the fragmented image of this area. The three-dimensional forms within the scaffolding are changed periodically so that the object is continuously in an in- between state. The observer is left with the growing realization that the transitional form is the final gestalt of the object. The project becomes cloud and castle at the same time.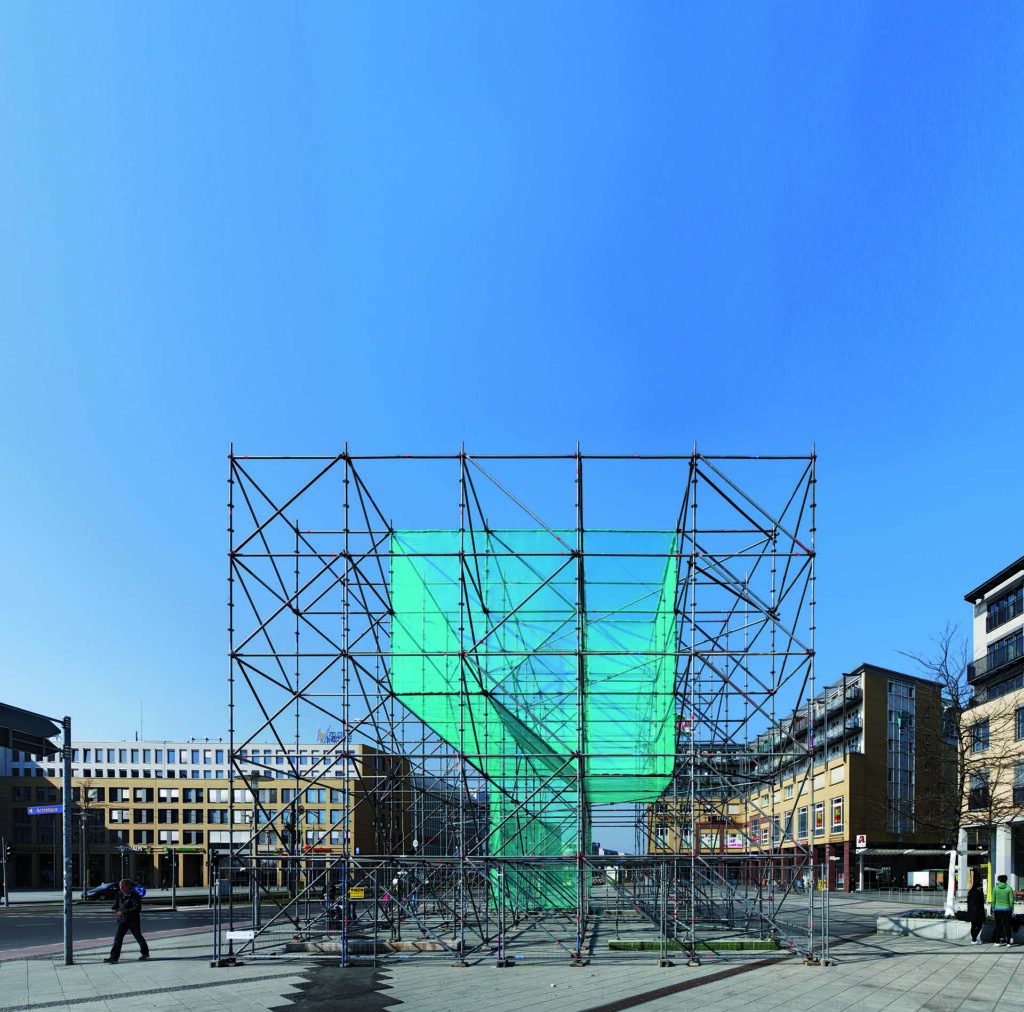 Background: Substantial construction on the housing development Hellersdorf started in 1979. It was one of East-Berlin's largest new housing developments along with Marzahn, Altglienicke and Hohenschönhausen. By the time of the fall of the Berlin Wall in 1989, construction had not been completed; only 34.000 of 46.000 apartments were finished. During the 1990s the neighborhood center "Helle Mitte" was constructed to further develop the area. Most of the building construction had been completed by 1998. Due to the bankruptcy of the development agency and missing public funds, especially the planned improvements to the public realm remained incomplete and have shaped the unfinished image of "Helle Mitte" ever since.